Charmander's Planetary Award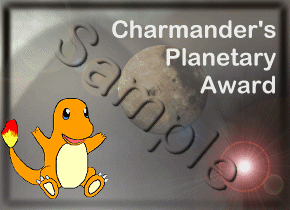 Don't be disappointed if you don't get this award. To apply e-mail me at pokeexpress@yahoo.com and tell me your name, the name of your site, your url, a description of your site, and why you deserve an award. Don't forget to read all the requirements.
Requirements
Must:
be a site dedicated to pokemon
have excellent contents and features
have a terrific layout and design
have original content
have tons of features and information
Must not:
have construction signs
be overflowing with banners
have unreadable text
etc.